Membership
Membership Information
Forms and Electronic Subscriptions



On This Site

Register of Modern Bush Poets
Many Poets have products and services available
_________________

Roll of Honour
Australian Bush Poetry Champions
and ABPA executive members
_________________

Multimedia
See and hear some of our
modern Bush Poets
_________________

Yarn Spinning
Poets often tell yarns too.
Read some great Aussie yarns
_________________

ABPA Strategic Plan
_________________

2016 Office Bearer and Proxy Form
MSWORD PDF
2016 ABPA Committee
ABPA Committee
Executive
President - Bill Yates
Vice President - Tom McIllveen
Secretary - Rhonda Tallnash
Treasurer - (vacant - Greg North filling in)
Committee Members
Robyn Sykes
Carol Reffold
John Peel

ABPA State Delegates
Qld - Cay Ellem
NSW - Rob Christmas
Vic - Jan Lewis
Tas - Philip Rush
SA - Bob Magor
NT - Lance Lawrence
WA - Irene Conner
Magazine Editor - Neil McArthur
Webmaster - Gregory North

See previously featured committee members

New President's Report
Greetings to all fellow ABPA members and bards throughout Australia. I would firstly like to introduce myself, and to share with you my vision for the upcoming year in regards to my role as incoming president. Although I have not had the pleasure of meeting our outgoing president Hal Pritchard in person, I would like to take this opportunity to thank him on behalf of all ABPA members for his wonderful contribution to our organisation and indeed to Australian Bush Poetry overall, during the years of 2014 and 2015.

He has left me with a big pair of shoes to fill and I am looking forward to the challenge of leading the ABPA for the next twelve months.
I would like to welcome my fellow committee members Vice President Tom McIlveen, Secretary Rhonda Tallnash and State Reps Cay Ellem, Rob Christmas, Irene Conner, Jan Lewis, Phillip Rush, Bob Magor, Lance Lawrence, Robyn Sykes and John Peel, as well as Magazine Editor Neil McArthur and Web Administrator Greg North.

As I am currently unknown to many of the members throughout Australia, I would like to tell you a little about myself and my background.

I am country born and bred, having been raised on various dairy farms in the Manning Valley (near Taree NSW mid northcoast), namely Tipperary, Bobin, Cedar Party and Central Landsdowne, where I remained until the age of 10 years.

We then moved to Taree, where I attended school from 4th Grade onwards. I was to later become president of Taree Junior Farmers Association and was a member of Taree Old Bar Surf Club.

At the age of fifteen I joined the Railway as a DP Clerk in 1955 and later worked my way up to become a train driver, achieving a long term childhood dream and ambition.

Before becoming a driver, I was initially a fireman on the Locos from the age of 17 years. I spent a short time at Taree, then Moree, Broadmeadow in Newcastle, and then Ivanhoe as an appointed fireman. Ivanhoe is in the far west of NSW, where, when not working on the railway, I spent much of my time on a sheep property, learning all aspects of farming sheep, from droving through to crutching and shearing. It was here that I first started to develop a deep love for the Australian bush and the outback way of life.

I was then transferred to Sydney, where I met my wife to be, and married in 1963 and was appointed driver on the Sydney electric trains. I drove trains for the next thirteen years before being promoted to Travelling Inspector at Bathurst and later Chief Inspector at Junee. We left Bathurst upon my retirement and headed north seeking fairer, warmer climes in Alstonville, in the northern rivers district of NSW. We then moved to Port Macquarie in 2002 to join family here, where I met Tom McIlveen at the local Toastmasters Club. I had been a toastmaster for many years previously and was introduced to the wonderful world of bush poetry through Tom. He invited me along to his local group here, which I have been attending regularly ever since for the past several years . I have a deep rooted passion and love of bush poetry. I am a keen performing poet and have been well and truly bitten by the bush poetry bug. I am looking forward to meeting many of my fellow sufferers in my upcoming year as president and intend to get out amongst you and attend as many of the events as possible.

Having recently lost my beloved wife, who was also my best friend, to pancreatic cancer, I am determined to immerse myself in the world of bush poetry this year, and will be attending Dunedoo and hopefully other upcoming events where I am looking forward to meeting many of you.

I wish you all a happy, healthy 2016.

Bill Yates.


Welcome to the ABPA website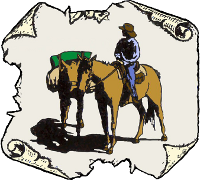 WELCOME, membership of the Australian Bush Poets Association (ABPA) is comprised of writers, performers and individuals who are interested in bush poetry and enjoy written and live stories in rhyme and metre. If you have an interest in this piece of Australian culture called Bush Poetry, you are welcome here.

Aims
The objectives of the Australian Bush Poets Association is to foster and encourage the growth of Bush Poetry in Australia. By definition, Australian Bush Poetry is metred and rhymed poetry about Australia, Australians and/or the Australian way of life.

Membership
To join the Australian Bush Poets Association and receive our bi-monthly magazine, go to our Membership page.

The ABPA keeps in touch with our members through this web-site (and forum) and our bi-monthly magazine of Bush Poetry news, events, results of written and spoken competitions as well as samples of contemporary bush poetry. Many members have books, CDs and other products. These can be advertised in the magazine. For rates, click here. The dealine for ads and other content for the magazine is the 22nd of the month preceding publication. Magazines are published at the beginning of February, April, June, August, October and December.



Check out our Facebook page.


Meet a Poet – Ralph Scrivens
Feature Poet - we are introducing our wonderful poets (both performers and writers) to newcomers and to the general public by featuring a different ABPA poet on the Website each month. Poets featured will come from the entire membership and may be professionals, semi-professionals or amateurs, but each will be a worthy role model to represent the ABPA membership.

Ralph Scrivens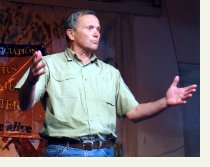 Hi, my name is Ralph Scrivens and I am a member of the Illawarra Breakfast Poets. I only started reciting poetry seriously when I joined the group about 5years ago and after plenty of encouragement I decided to enter into poetry recital competitions and have been fortunate or lucky enough to win both the 2014 Queensland and NSW championships, was runner up at the Young Cherry festival competition, came first at the inaugural 2015 Milton Show competition and also won the Previously Published recital at the 2015 Oracles of the Bush in Tenterfield.

I really enjoy reciting at local aged care facilities, Seniors week at poetry in the park and have been invited to perform at several Probus clubs and church groups and other venues around the Illawarra region. Learning new poems and writing poetry certainly keeps the old grey matter ticking over and after having retired from the police force and having moved to a new location in Corrimal, it has been a great way to meet new friends, mix with other poets and to hear them recite some wonderful poems. I hope to continue reciting at festivals and competitions and look forward to meeting you and exchanging ideas and thoughts on poetry.

Yours in poetry, Ralph Scrivens.


See previously featured poets.



Member Achievements – Tom McIlveen and Jason Roweth
The ABPA also wishes to acknowledge the achievements of members who specialise in specific areas which help to promote the cause of the ABPA and of Bush Poetry in general.

New Golden Damper Winners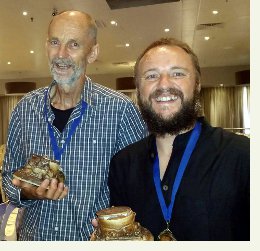 The coveted Golden Damper Awards have been won by Tom McIlveen of Port Macquarie NSW (for Original) and Jason Roweth of Milthorpe NSW (for Established). The performance competition was held in Blazes Auditorium of the Wests Leagues Club in Tamworth NSW during the Country Music Festival.

After three heats, 9 competitors for Original and 6 for Established competed in the final in front of an audience of around 150 people (pretty good for a 7 am start!)

Co-ordinator Graeme Johnson did a great job of making sure everything ran like clockwork with the help of his team of judges, time keepers, collators and MCs.

Thanks to all for making it another quality competition.
See full results at Events & Results.


See previously featured achievers.



Outgoing President's Report - Hal Pritchard, January 2016.
During the last two years that I have been President of the ABPA, we have had many highlights and also many sad times. Of the latter, the passing over of so many of our founding members has meant a lot of heartache for us all. We owe it to these wonderful pioneers of the new era of bush poetry, to ensure that the ABPA maintains a strong bond for those who follow, love or are yet to find out about our uniquely Australian, multi-faceted genre.

Across many different areas, the ABPA provides a network of communication and support, to suit all tastes. From the printed magazine to the website, to the external poetry outlets that feed in to and feed out from our association, the ABPA has much to offer to all.

As outlined in our promotional brochure, our printed magazine features poetry information, news and views, previews and reports on poetry events and competitions throughout Australia, advertises opportunities, products and services, displays interesting information and photos of members both amateur and professional, past and present and is a wonderful record of bush poetry and poets. This is the heart of the body of bush poetry and the gift that members receive. The achievements of the ABPA and its members is archived through the National and State Library systems.

Our website showcases modern poets and performers, lists poetry events, competitions and festivals, displays award winning poems and yarns, provides writing and performing techniques, contains bush poetry competition resources and links to others socially and instructively through the Forum and Facebook social media.

The ABPA lists and circulates information to individuals, clubs and organisations and generally ties everything together for the greater good of all.

In addition, the ABPA provides standardised procedures for organising and running festivals and competitions through its very comprehensive Competition Package. We are delighted that all championship organisers and the majority of ABPA approved clubs and organisations, are only too willing to basically abide by the guidelines inherent in the package. These are aimed to ensure that both performers and writers are aware of how they are being assessed and that there is a uniformity of expectations and outcomes around the nation.

The ABPA inputs in monetary token and expertise to national and state championships giving the opportunity for poets to compete and grow from the sharing of their skills through advanced level contest and concert. These events also allow for an Australia-wide fellowship of poets and supporters at all levels of development.

The ABPA also provides a Public Liability Insurance policy to its members which, for $100, gives individuals extensive individual accident coverage – a very important and necessary facility.

Aside from this insurance and the magazine (which only goes out to members), most of the above services are offered free to anyone who wishes to avail themselves of the opportunity to take from what the ABPA has to offer. It may be said, through this generosity that there is little need for anyone to join the ABPA in order to benefit from this diversity of gifts and there are some who would willingly take without contribution back. However, the ABPA can only continue to fulfil its important Strategic Plan goal, to be '…the peak body for Bush Poetry in Australia…', if it has sufficient membership to enable it to fund the contributions it makes to the overall bush poetry movement. If the ABPA does not remain viable, then bush poetry loses its most vital unifying outlet.

There are many functioning bush poetry clubs which offer their members the opportunity for poetic and social interaction at a local level. The ABPA gives support to these clubs in all the ways outlined above but, in return, it needs the support of these clubs to continue functioning. As I see it, the ABPA is the hub and the clubs are the spokes in the wheel. It is not a 'them and us' situation – the 'them' is the 'us'. Events held by clubs can lead to an increase in club membership, but they do not automatically result in attendees/newcomers seeing the bigger picture and consequently also becoming ABPA members. I do urge those clubs who are not already doing so, to adopt the universal attitude that what is done for the ABPA comes back in what the ABPA can do for you. Simple acts such as displaying the ABPA promotional brochures at functions, can help to ensure the continuation and growth of your Association. For those clubs who are already adopting this approach thank you from us all. Each spoke that joins the rim to the hub is contributing to the expansion of the love of Australian culture and heritage through yarn-spinning and storytelling in poetry with rhyme and metre.

The ABPA relies on voluntary administrators and we are each very grateful for the roles that others play in keeping our organisation running and vibrant. Personally, I sincerely thank the ABPA outgoing committee and all those members who have helped in each and every way during my tenure as President and I extend a heartfelt hope that the ABPA will prosper and grow into the future. I welcome, applaud and support all those who will be making contribution to this aim.

In poetry,
Hal Pritchard (2015 President)