Membership
Membership Information
Forms and Electronic Subscriptions



On This Site

Register of Modern Bush Poets
Many Poets have products and services available
_________________

Roll of Honour
Australian Bush Poetry Champions
and ABPA executive members
_________________

Multimedia
See and hear some of our
Modern Bush Poets
_________________

Yarn Spinning
Poets often tell yarns too.
Read some great Aussie yarns
_________________

ABPA Strategic Plan
_________________

2014 ABPA Committee
ABPA Committee
Executive
President - Hal Pritchard
Vice President - Graeme Johnson
Secretary - Brenda Joy Pritchard
Treasurer - Gregory North
Committee Members
Robyn Sykes
Carol Reffold
John Peel

ABPA State Delegates
Qld - Wally Finch
NSW - Tom McIllveen
Vic - Jan Lewis
Tas - Philip Rush
SA - Bob Magor
WA - Irene Conner
Magazine Editor - Neil McArthur
Webmaster - Gregory North

President's Report, Oct-Nov.
Again, welcome to you all and especially to those thirteen new members who have joined us in the last six weeks. We hope that you will each have a long and enjoyable association as part of the ABPA.
GETTING TO KNOW EACH OTHER
In addition to the 'Thank You to Co-ordinators' feature on the Website and in the Magazine, we are continuing with the 'Meet a Poet' and including a 'Member Achievements' feature on the ABPA home page. The latter is to acknowledge the importance of members who specialize in specific areas which help to promote the cause of our organization and of Bush Poetry in general.
ABPA COMPETITION PACKAGE
The Competition Package on the website now includes a guide by Brian Langley, Steps for Organising a Major Competition, which we feel will prove useful to festival co-ordinators. Other ideas that may be incorporated at a later date are some basic guidelines re applying for a grant to run a competition, ways to run a meeting, preparing a budget and costing an event. We thank Brian for his interest and input.
Following the trial at the NSW Championships and constructive feedback from ABPA members, the Competition Package has been adjusted as found necessary and the package as it stands has been approved by the ABPA Committee on behalf of the membership. However, it will be further trialled at the WA Championships and the 2015 National Championships. As stated on the website, the package is still open to membership suggestions therefore ideas are welcome to be sent to the Committee for examination.
MAINTAINING OUR STANDARDS
Most poets have a flexible approach to Bush Poetry when it comes to performing for the general public or writing for social appeal. At club level it is desirable that many means of expression and aspects of socializing and non-competitive interchange should be enjoyed. It is good to see innovative ideas being tested throughout Australia and the ABPA aims to support clubs and members in their endeavours.
When it comes to competitions, it is pertinent to note that whilst the ABPA supports competitions and provides limited funding towards National and State Championships, it is the local clubs which organize their events and decide on what to incorporate or not. However, where clubs undertake to conduct their competitions at a championship level we need to maintain our high standards of rhymed and metered poetry with respect to both performance and writing. Outside the ABPA each member can be as expansive as their interests allow but within our organization, the standards not only preserve the aims of the ABPA but offer a challenge to all who wish to become better at what they do. For example, in performance, the guidelines allow reading in the Novice and Intermediate categories but not in the Open Category. Performers assure me that memorization requires time and effort but that the reward is the freedom that comes with non-reliance on that sheet of paper. Writers say that, once you get that rhyme and metre flowing without glitches, you can hear (within your own work) how the 'music' comes out and then gain the confidence to experiment with more complex rhyme and metre structures. It can be like adding a melody and rhythm to lyrics.
The definition of 'Bush Poetry' has been extended to allow subject matter that does not relate to iconic Australian aspects such as the Bush or Gallipoli but the term "must be distinctly Australian" remains as an essential aspect. Broadly, 'distinctly Australian' can be reflected in the casual way in which we interact with each other and in our unique sense of humour such as having a go at ourselves.
GREY NOMADS
As with other winter meccas around Queensland, NT and WA, the tourist season in Charters Towers from May through August again gave plenty of opportunity for Brenda to perform at caravan parks and tourism venues and for me to reach the travelling population with information about the ABPA. As Brenda was doing the Camooweal Drovers' Camp Festival in late August and the WA Championships in Toodyay in
October, the time in between was optimum for us to join the 'grey nomads' as 'travelling performer' and 'ABPA flag waver'. Not only are we having a wonderful time on the road but, like the other troubadours who roam our land, we are also generating a great deal of interest in Bush Poetry. So many on the road are discovering bush poetry for the first time. As a 'niche' group we won't be the largest poetry organisation in Australia but we can try to be the most representative of our genre. It is up to us all to show that we have something that is worth preserving.

In poetry,
Hal
Welcome to the ABPA website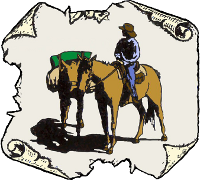 WELCOME, membership of the Australian Bush Poets Association (ABPA) comprises of writers, performers and individuals who are interested in bush poetry and enjoy written and live stories in rhyme and metre. If you have an interest in this piece of Australian culture called Bush Poetry, you are welcome here.

Aims
The objectives of the Australian Bush Poets Association is to foster and encourage the growth of Bush Poetry in Australia. By definition, Australian Bush Poetry is metred and rhymed poetry about Australia, Australians and/or the Australian way of life.

Membership
To join the Australian Bush Poets Association and receive our bi-monthly magazine, go to our Membership page.

The ABPA keeps in touch with our members through this web-site (and forum) also a bi-monthly magazine of Bush Poetry news, events, results of written and spoken competitions as well as publishing contemporary bush poetry. Many members have books, CDs and other products. These can be advertised in the magazine. For rates, click here.



Check out our Facebook page.

News

Vale Barry Lake
With deep regret we report the passing of Barry Lake on Tues- day 2 September after a short illness. Barry was a staunch supporter of the ABPA and an avid collector and presenter of bush poetry. He was well known in the bush poetry and folk music festival scenes as a poet, noted compere and volunteer worker.

Vale Bob Sanders
It is such sad news to know that Bush Poet Bob Sanders did not come through his long struggle. On behalf of the ABPA Committee and Membership we extend our heartfelt condolences to Lois and to all those who loved this great Aussie character. The Bush Poetry community has lost a true performer and a good mate.


Competition Package is now available with guidelines, judging and competition sheets, accredited judges list and application form and approved competitions list. If found necessary, these documents are open to amendment or changes as required following membership input and committee approval.

Roll of Honour lists Australian Bush Poetry Champions and ABPA Executive members since inception.



Meet a Poet (or two) – John & Carmel Lloyd
Feature Poet - we are introducing our wonderful poets (both performers and writers) to newcomers and to the general public by featuring a different ABPA poet on the Website each month. Poets featured will come from the entire membership and may be professionals, semi-professionals or amateurs, but each will be a worthy role model to represent the ABPA membership.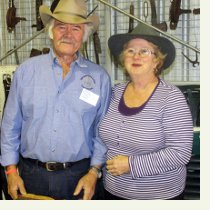 John Lloyd looks the part, and he is the part – the genuine article, an optimist through and through, with a love for the Australian bush and the outback way of life. John is a true Aussie identity. He has worked most of his life in the bush and can relate tales of that time with uncanny perception. John's droving experiences took him from the Channel Country to Bulloo Downs, from the Gulf Country to the Cooper and to all parts of outback Queensland and NSW. His experiences in the 1980's in the Northern Territory catching wild buffalo, led to his career domesticating them and now raring them on his properties in Calen on the Queensland coast and at Kempsey in central NSW for both the meat, dairy and subsidiary industries.

They say opposites attract and the Lloyds' long-term, happy marriage proves this. Carmel's background running dance schools from the NT to Papua New Guinea could not have been in greater contrast and John is the first to respect her adaptation to the harsher conditions sharing in their joint venture and leading a life of "Buffalo and Ballet".

In addition to rearing and shifting stock both John and Carmel are very successful performance poets and yarn spinners with a swag of awards to their names including John's ABPA Queensland Championship and Winton Waltzing Matilda Awards and Carmel's Gympie Muster. Their busy lives take them on many exciting journeys and you will find them at festivals and events all around eastern Australia entertaining and sharing their true life adventures with flair and colour.

As a writer, John's poems are mostly based on personal episodes and his first-hand knowledge of the bush lends itself to a rawness and authenticity that is visible in his poetry. He is a great story teller and a "painter of pictures" in verse. He draws you into his experiences around the campfire, at rodeos, out droving, or buffalo catching.

John's inspirational CDs and his books From Wagonettes to Road Trains (ABLA Finalist) and When the Nightwatch Sang a Song are available from or from PO Box 111, Calen, Queensland 4798.

We are proud to have Carmel and John as ABPA members.


See previously featured poets.



Thank You Festival Co-ordinators – Brian Langley 'The City Poet'
We are very fortunate this year that bush poetry events will have included four State Bush Poetry Performance and Written Championships, held under the auspices of the ABPA. These championships are not run by the ABPA as an organization but by individual members who are willing to dedicate their time and energy to helping to present bush poetry as stand-alone events or through integrating it into other festival activities. In doing so, they hold Bush Poetry competitions basically in accordance with formats and guidelines that are still proving successful. These competitions foster camaraderie between poets at all levels of development and provide for those members who enjoy either performing or watching both the more traditional aspects of bush poetry and the modern, more humorous approach that has helped to expand the popularity of our genre.

We extend our heartfelt appreciation to all festival and competition co-ordinators and their committees for the work they are doing towards preserving, maintaining and expanding our unique cultural heritage through oral and written, bush poetry, yarns and storytelling.

This month we say Thank You to ...

Brian Langley 'The City Poet'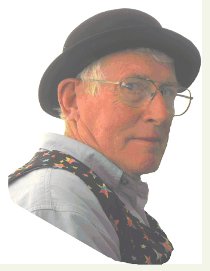 Having organised many major performance and written competitions including the West Australian Championships of 2005, 2008, 2011 and 2013, Brian emphasises the fact that planning way ahead is an essential part of preparing for any event.

"There are many steps to be taken when setting out to organise a major poetry competition. My philosophy in life is 'get it right the first time', so this means that all contingencies must be considered and all necessary organisation and paperwork be done BEFORE it is needed. This will go a long way to minimising hiccups on the day."

"The ABPA have organised a standardised competition package in order to have similarity across Australia, I commend them for this, for it not only minimises discrepancies across our land but has simplified the work of competition managers in that many of the forms needed are now downloadable from the ABPA website."

The new organisers of the 2014 WA Championships to be held 24th – 26th October in Toodyay, will benefit from Brian's helpful advice and the ABPA thanks him for sharing his knowledge and experience with us all.


N.B. Brian's 'Steps for Organising a Major Competition' now form part of the current ABPA Competition Package and are available for download on the Competitions page.



Member Achievements – Glenny Palmer
The ABPA also wishes to acknowledge the achievements of members who specialise in specific areas which help to promote the cause of the ABPA and of Bush Poetry in general.

SPECIAL ACHIEVEMENTS – Glenny Palmer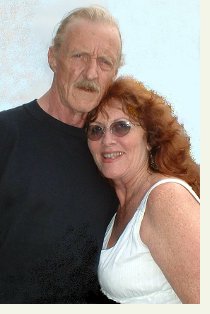 "Approaching Glenny to contribute to this section, despite her many achievements as one of our first and most successful female bush poets, she felt that in recent times her greatest contribution was to publish the poems of her partner, John 'croc' Moss, and to establish in his honour, a new Bush Poetry event in Theodore, Queensland, where they spent his last years together.

We thank Glenny for demonstrating that even when times are really tough, if you put your energy towards something worthwhile "it can be done".

"Prior to the sad day when my poetic sweetheart 'croc' succumbed to his terminal 'Motor Neurone Disease', I had decided that his unique poetry should be made available to the world before we lost him forever. With the help of many of our dear ABPA poet friends (predominantly Zondrae King) his first book, 'The World According to croc' was created. The rush was well and truly on then to provide a viable Bush Poetry venue in the heritage sheds on my property, where 'The Copper Croc Poetry Awards' and the release of croc's book could be staged. Some of our poets travelled great distances to not only say their goodbyes to croc, but to get stuck in with hammers and shovels to actually help create the venue! However, as I was to later write in my farewell poem to croc, 'Angels on their mission leave such scant time for goodbye'…croc was buried just the day before the scheduled event. The Aussie spirit kicked in and we forged on to stage the most wonderful farewell for him. We had campfires burning, sausages sizzling, and wonderful performances from Brenda Joy, Bob Pacey, Zondrae King, and our darling Kym Eitel, who was so bravely fighting her own similar battle."

"As yet these awards are for written work only, but I hope to expand that as the response is so encouraging. Space precludes my acknowledging all of those who so lovingly contributed, but I will never forget them, or their invaluable input into what is now an acknowledged yearly event on our Bush Poetry calendar."

Glenny's CDs and Croc's and her books are available at glennypoet at bigpond dot com
You can find out more about Glenny and access her useful advice on the Techniques page.


See previously featured achievers.