Membership
Membership Information
Forms and Electronic Subscriptions



On This Site

Register of Modern Bush Poets
Many Poets have products and services available
_________________

Roll of Honour
Australian Bush Poetry Champions
and ABPA executive members
_________________

Multimedia
See and hear some of our
modern Bush Poets
_________________

Yarn Spinning
Poets often tell yarns too.
Read some great Aussie yarns
_________________

ABPA Strategic Plan
_________________

2016 Office Bearer and Proxy Form
MSWORD PDF
2015 ABPA Committee
ABPA Committee
Executive
President - Hal Pritchard
Vice President - Manfred Vijars
Secretary - Brenda Joy Pritchard
Treasurer - Gregory North
Committee Members
Robyn Sykes
Carol Reffold
John Peel

ABPA State Delegates
Qld - Wally Finch
NSW - Tom McIllveen
Vic - Jan Lewis
Tas - Philip Rush
SA - Bob Magor
WA - Irene Conner
Magazine Editor - Neil McArthur
Webmaster - Gregory North

See previously featured committee members

President's Report, Dec-Jan '16
VALE ELLIS CAMPBELL
-- For all of us who loved and respected Ellis Campbell, who passed over on 22nd October at age 88, this has been a very sad time. The whole of the ABPA has been united in paying respect to one of the finest writers of the modern era and in extending our sympathies to his wife Maureen and his devoted family. Many tributes to Ellis have gone into the ABPA Magazine. Farewell for now to a wonderful mentor and friend.
COMMITTEE REPORT
- The Committee has been working towards considerations that need to be discussed at the AGM, which will include the ABPA Financial Situation, communication ideas between all segments of the bush poetry community, programs for youth and ABPA
Championships muted for 2016/17.
With respect to the latter, a new group assessment sheet for children seven and under entering written competitions, is now included in the Competition Package. This is aimed at helping class teachers to take the next steps towards conveying the basics of bush poetry. The competition package is regularly upgraded according to need and we hope that organisers and potential competition entrants will continue to avail themselves of the current information on the site.
The 2015 ABPA West Australian Championship
was held in Toodyay from 30th October – 1st November. Report and results will be published as they come through from WA. Once again, congratulations to Bill Gordon and his enthusiastic team for conducting yet another successful annual event.
ABPA GOLDEN DAMPER PERFORMANCE COMPETITION
- The West Leagues Services Club in Tamworth have again provided venues for the ABPA to hold the Golden Damper Performance Awards. Details of the competition are in the magazine and entry forms may be downloaded from the
Event & Results
page. Unfortunately, this year we have not attracted sponsorship funding, but, in line with the explicit wishes of ABPA members and the approval of the Committee, and in the absence of an
application for a National Championship, it was agreed to fund the Golden Damper as our
showcase event for 2016. To allow us to do so, we have had to implement means of fund raising to cover the costs. However, if the prestigious Golden Damper is to continue beyond 2016, we must urge all to support it through entries and through attendance at Wests and at fund raising events to be held in St.Edward's Hall (details in the magazine and on this Website). It is felt to be imperative that the ABPA has a direct, high profile presence at the Tamworth Country Music Festival where so many of our members congregate and where we have chosen to hold our AGM's. Please help us to retain this.
MEMBERSHIP RENEWAL
– A renewal form for the annual membership will be enclosed with the December/January magazine or a membership form is available here in
MSWORD
or
PDF
. Members are vital for the functioning of our organisation and we thank each and every one of you for continuing as financial members of the ABPA.
OFFICE BEARER POSITIONS
– The 2016 ABPA AGM will be held in Tamworth on 20th January,
2016 (see details in the magazine). All office bearer positions are declared vacant at the Annual General Meeting.
The Office Bearer Nomination and Proxy Voting form is available at 'On This Site' above. If you are not able to be in Tamworth for the AGM, the proxy voting system allows you to have your say on who you wish to represent you for 2016. You are invited to allocate your choice in this manner.
Measures have been formulated to allow the smooth running of the 2016 meeting with respect to office bearer appointments and proxy voting and these will be circulated to attendees prior to commencement.
To allow others time to consider coming forward, I am notifying that I will not be standing for President of the ABPA in 2016, nor will Brenda-Joy be standing for ABPA Secretary. We have gained greatly from our two year term of office but we need to move on to other endeavours. Our departure will allow others to take on these demanding but fulfilling roles. We thank you for having us as part of your Executive for 2014/2015.
To serve the ABPA membership in any capacity is both an opportunity and a privilege. I recommend that you consider being a part of the Committee that maintains the ABPA on behalf of all its members.
I wish you all a warm and congenial Christmas and festive season and a New Year that brings you whatever is best for your health, happiness and well-being.
In poetry,
Hal
Welcome to the ABPA website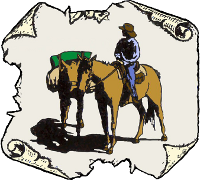 WELCOME, membership of the Australian Bush Poets Association (ABPA) is comprised of writers, performers and individuals who are interested in bush poetry and enjoy written and live stories in rhyme and metre. If you have an interest in this piece of Australian culture called Bush Poetry, you are welcome here.

Aims
The objectives of the Australian Bush Poets Association is to foster and encourage the growth of Bush Poetry in Australia. By definition, Australian Bush Poetry is metred and rhymed poetry about Australia, Australians and/or the Australian way of life.

Membership
To join the Australian Bush Poets Association and receive our bi-monthly magazine, go to our Membership page.

The ABPA keeps in touch with our members through this web-site (and forum) and our bi-monthly magazine of Bush Poetry news, events, results of written and spoken competitions as well as samples of contemporary bush poetry. Many members have books, CDs and other products. These can be advertised in the magazine. For rates, click here. The dealine for ads and other content for the magazine is the 22nd of the month preceding publication. Magazines are published at the beginning of February, April, June, August, October and December.



Check out our Facebook page.

Competition Package is now available with guidelines, judging and competition sheets, accredited judges list and application form and approved competitions list. If found necessary, these documents are open to amendment or changes as required following membership input and committee approval.

Roll of Honour lists Australian Bush Poetry Champions and ABPA Executive members since inception. There are also tributes to members who have recently passed on.

Bush Laureate Awards deferred



Meet a Poet – Max Pringle
Feature Poet - we are introducing our wonderful poets (both performers and writers) to newcomers and to the general public by featuring a different ABPA poet on the Website each month. Poets featured will come from the entire membership and may be professionals, semi-professionals or amateurs, but each will be a worthy role model to represent the ABPA membership.

Max Pringle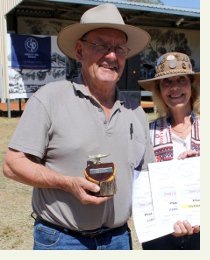 I was born at North Rothbury NSW and spent my early years at Quorrobolong where I attended school progressing on to Cessnock High School where I was a drop out in 2nd year. Through my life I have had many jobs in many places including, Cessnock, Sydney, Newcastle and London, none of which I lasted at for long.

My late wife, Dot, and I had our own shops in Weston NSW for some 17 years after which we returned to farming. First at Wollombi and then at Narrabri where we lived when Dot passed away in 2005. Since then I have recently sold the farm and moved in to town.

At the insistence of my sister, Jan, I entered the Golden Damper competition in Tamworth in around 2008 and since then I have been a finalist a couple of times. I have also had a H.C. and a second at Dunedoo, a first with Jacqui Warnock at Bundaberg and a 3rd at North Pine and I have won 1st place at several Shows and Eisteddfods. In 2014 I gained a 1st at Camooweal and in 2015, I won both the Yarn Spinning and the Bush Poetry sections at that festival and took out the coveted Drovers Camp Talent Award.

I do write, but have only ever had one poem in the finals and that was at Gulgong many years back now but I have co-ordinated the 'Nandewar' Written Poetry Competition, which attracts entries from all over Australia, for the past 14 years.

Apart from my poetry I am heavily involved in community work and in 2008 I received an O.A.M. for services to the community.

It is great to see our poets actively involved in their community and Max should be justly proud of winning an O.A.M. – probably a first ever for a bush poet. These days, it is not surprising to come across Max in an outback location exploring our wonderful country and doing his bit to promote bush poetry en route. Thanks for telling us more about yourself Max.


See previously featured poets.



Member Achievements – David J Delaney
The ABPA also wishes to acknowledge the achievements of members who specialise in specific areas which help to promote the cause of the ABPA and of Bush Poetry in general.

SPECIAL ACHIEVEMENTS – David J Delaney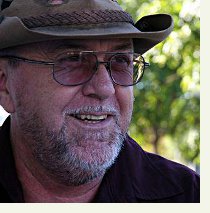 I am a former Brisbane boy who used to live and work in Cairns with my very patient, and darling wife, I sometimes wonder where I get the time to write but always seem to manage to pen something, also as well as being a member of the ABPA, I am a member of the Tropical writers group Cairns and the book Creators Circle among other literary sites on the web.

Having had limited education including no formal education in writing, now at 60, I wanted to show that someone like myself without higher schooling could write and enjoy it. For me, school, Rocklea State School, (when I was there) was a place to 'hang out' with my mates and I actually only completed 3 months of high school (Salisbury) before leaving at the age of 15.

After numerous jobs throughout my youth I eventually moved into Furniture Removals where I stayed for approximately 25 years. For 17 of these, my wife and I operated our own removal business, and I was able to travel extensively throughout N.S.W and Queensland.

Since leaving the removal industry several years ago and having some 'thinking' time, my experiences, memories of driving the highways and tracks, the vast and beautiful outback, my wife, daughters, grand children and family, stories from mates, work colleagues and close war veterans have given me the inspiration for my writings.

The release of my 1st book "My small book of poems" in May 2007 was one incredible step for me. The size of my book was purposely done to gauge the reaction of the public. Despite not being proof read and having mistakes the response was both humbling and amazing, with comments from the likes of John Williamson, Mel from Sunrise, Steve Ahmet from Easylistening 846, Pat Morrish of Far North ABC Radio and many others & including sales to the U.S, U.K, Ireland, Japan & more. This has inspired me to keep writing and in March 2008 I released my 2nd and equally popular "Rhymes of Times".

My 3rd book "Out of Australia" is a 100 poem compilation and has been published in America after communicating with ASA Publishing company in Michigan. Out of Australia is available from selected online bookshops.

My latest book "Another Chapter" I published in India as a thank you for winning (with a bush poem) the prestigious Rabindrananth Tagore award in late 2013 this book is a collection of new poems and short stories.

My first three books are available from Amazon, "Another Chapter" is available from here and all are available via myself, please contact me for details

Thanks for all that David and we hope you continue to enjoy your travelling existence and to enjoy contributing to the bush poetry scene wherever you may wander.


See previously featured achievers.



Bush Poetry Clubs and Organisations
This feature is designed to share what is being done in bush poetry clubs and organisations throughout Australia. You are invited to submit your club's profile (through the ABPA Secretary) for inclusion in this section.

Townsville Bush Poetry Mates (TBPM)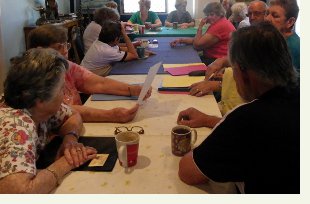 The TBPM meet every first Tuesday of the month at what we call our general meeting. On the third Tuesday of the month, the Executive Committee meet at the Bellevue Hotel, South Townsville. It is at this meeting that the day to day running of the club takes place. Events or ideas that involve all members are then taken to the general meet. After the executive meeting and dinner at the pub, we have a 'walk-up' Bush Poetry session. These nights are very casual and a lot of fun. We now have a regular following and most weeks there is new face on stage.

Over the last couple of years we have introduced 'homework' at our general meeting. This has proven to be very successful. Whilst members can still read or recite their favourite bush poetry, we have learned more about writing various types of poems; focussed on differing metre and rhyme; written poems from the point of view of an animal or inanimate object; as well taking on topical subjects. In May, all recalled fondest memories of their Mums and then in September told funny tales of their Dads, all in verse.

We are still in the planning stage for the coming year but we hope to continue our 'homework' sessions and suggestions already made are to focus more on different rhyming schemes and metre; write/rewrite poems that can be made into skits for performance and more challenging ideas are sure to come to light over the next few weeks.

Our club also has a collection of members' poems almost ready for print.

Of course our nights at the pub will continue along with visits to the aged care facilities and schools as well as performing at what have become 'regular events', either in walk-ups or whole concerts. Our members have performed across the North at Hughenden, Charters Towers, Bowen, Mareeba and Magnetic Island as well as Townsville. Initiated by one of our members there was an Australian Bush Poetry segment in the Townsville Juvenile Eisteddfod. The club donated the trophies which were quart pots, quite appropriate for our club; the winners were 'stoked'. Exciting stuff!

This year, to add to what already seems a magnanimous program, we would like to host a more public event either by way of a concert or competition. This event, hopefully, will once again attract the youngsters.

Our club is certainly busy and at times it is hard work but our main aim throughout is to promote Australian Bush Poetry, which is our passion and to do so while having loads of fun. So far we have succeeded as with great enthusiasm we go forward to 2016. Be sure to check out our website.

The TBPM has also hosted three very successful ABPA Queensland State Championships in Ravenswood and in Townsville and gained the reputation from those who attended, of being one of the friendliest groups of people you could encounter. Thank you to Dot Church for this report.