Welcome to the Australian Bush Poets Association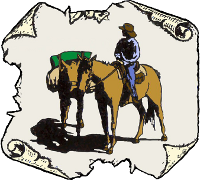 WELCOME. Membership of the Australian Bush Poets Association (ABPA) is comprised of writers, performers and individuals who are interested in bush poetry and enjoy written and live stories in rhyme and metre. If you have an interest in this piece of Australian culture called bush poetry, you have come to the right place.

Aims
The objectives of the Australian Bush Poets Association are to foster and encourage the growth of bush poetry in Australia. By definition, Australian bush poetry is metred and rhymed poetry about Australia, Australians and/or the Australian way of life.

Membership
To join the Australian Bush Poets Association and receive our bi-monthly magazine, go to our Membership page.

The ABPA keeps in touch with its members through this website (and forum) and our bi-monthly magazine of bush poetry news, events, results of written and performance competitions as well as samples of contemporary bush poetry. Many members have books, CDs and other products. These can be advertised in the magazine. For rates, click here. The deadline for ads and other content for the magazine is the 22nd of the month preceding publication. Magazines are published at the beginning of February, April, June, August, October and December.



Check out our Facebook page.
Wauchope NSW Show a success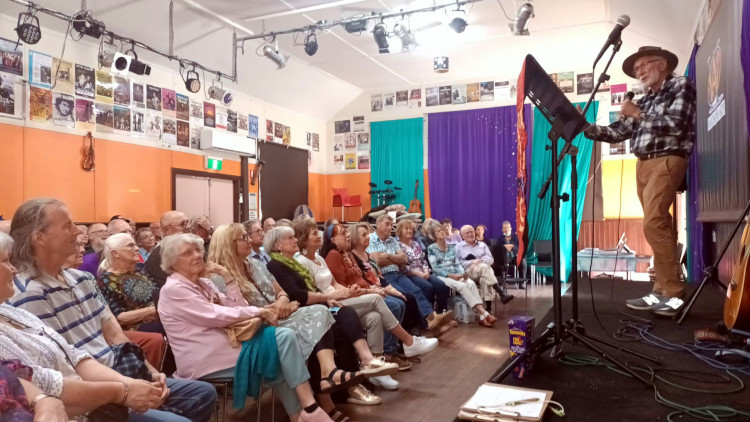 Bill Kearns, Ray Essery, Tom McIlveen, Susan Ashton and Gregory North perfromed to a packed house at Wauchope Community Arts Hall, NSW on Saturday 17th September.
EKKA Performance Competition
Held over the weekend of 6-7 August, the EKKA bush poetry performance competition was was fabulous. We had about 80 entries and performances to judge and the cliche "the competition level was very high" doesn't do it justice. We also had many interstate entrants who did themselves proud.

Dustin Finger, winner of the Trisha Anderson Encouragement Award, is a young "up and coming" poet with an authentic country background. Trisha Anderson was very impressed with Dustin's performances during the virtual competition and the live one.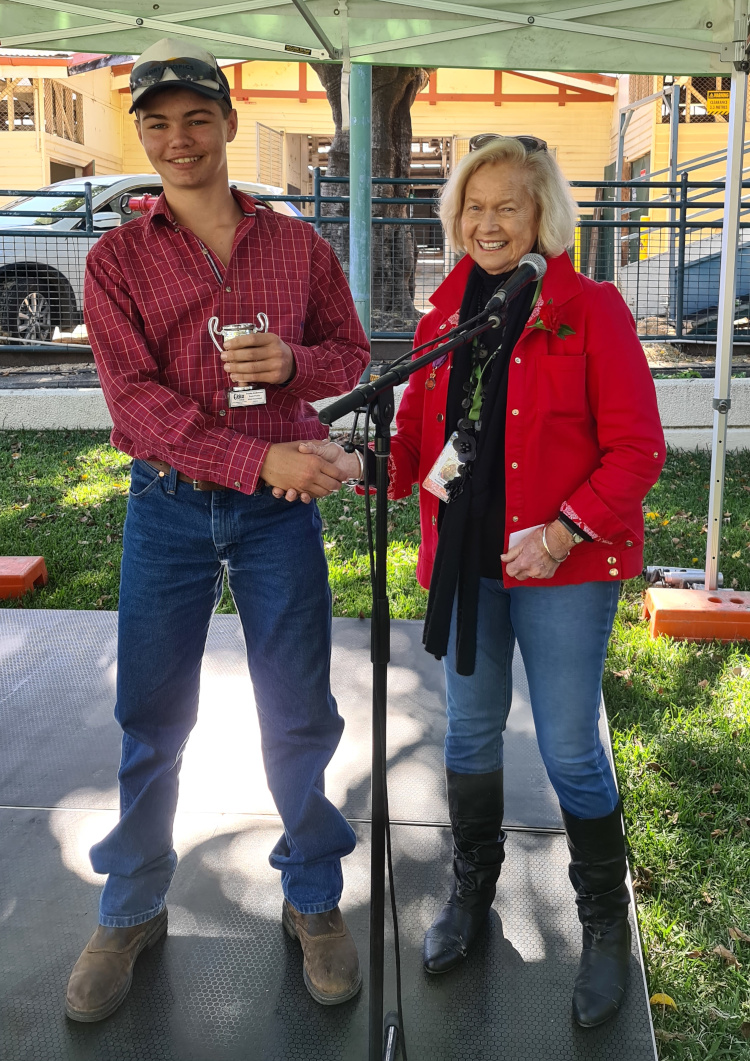 Dustin Finger and Trisha Anderson.
Trisha has been involved with promoting bush poetry at the Royal Brisbane Exhibition for about 24 years. Trisha is training a couple of "youngsters" Mal Beveridge and Mick Martin to do the heavy lifting so that she can step back a little bit. Trisha is still very involved and appreciated by them and the Ekka team.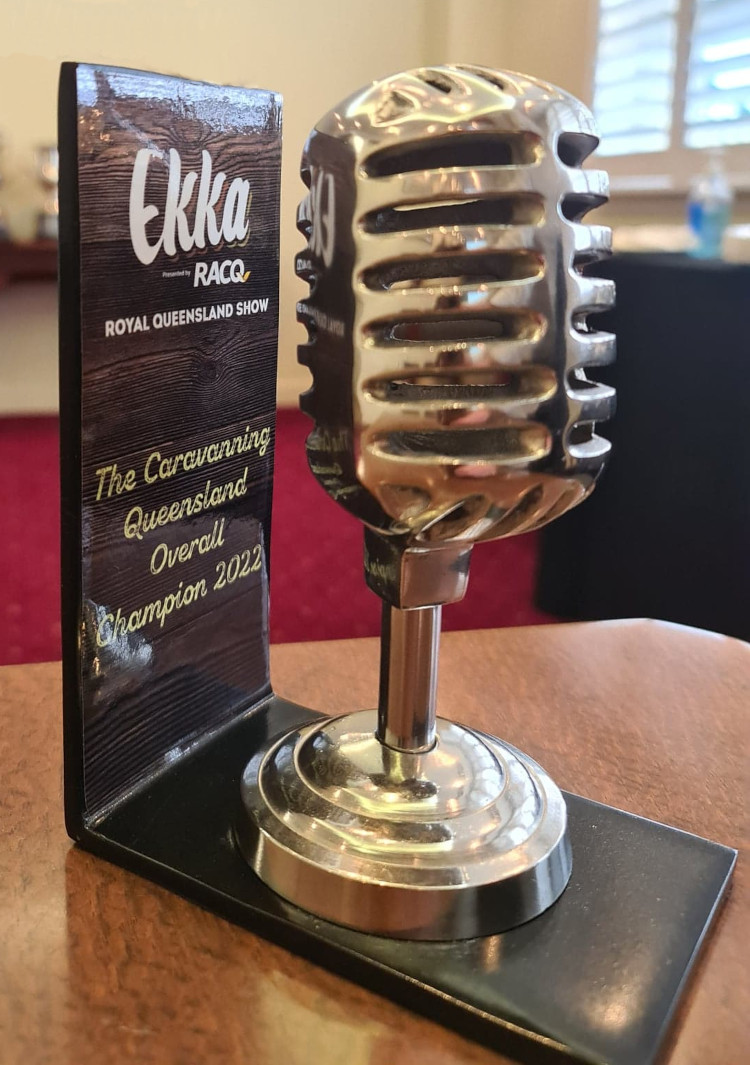 This is the overall champion trophy at the Royal Brisbane Exhibition won by Andrew Pulsford.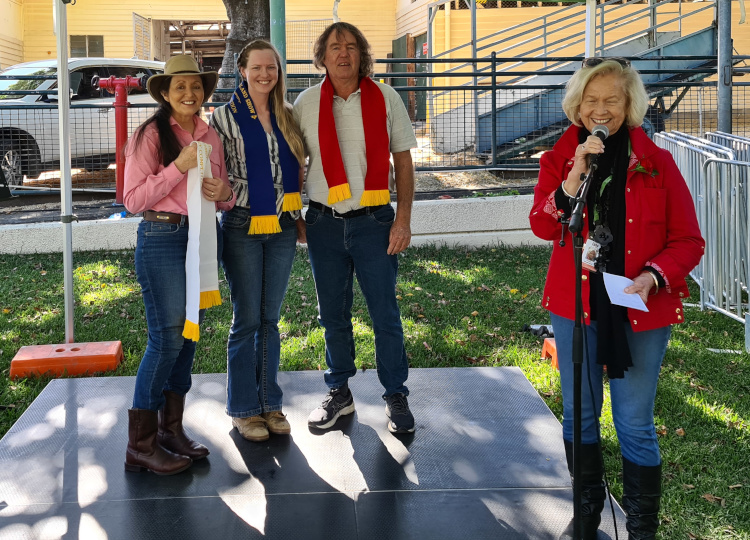 Debby Berryman, Amy Bradfield, Andrew Pulsford and Trisha Anderson
The overall champion was
Andrew Pulsford
who placed 1st with "He goes missing" a poignant poem about a returned soldier and 3rd with the poem "Amongst the wattle and sticks". Debby Berryman from NSW shared a thoroughly entertaining poem called "Possum's peril" which was a solid second. The Ekka crowd stopped in their tracks as she and her "pet possums" struggled to survive the perils of city life. There were so many other stand out performances which made judging a very difficult task indeed. Judges Carol Heuchen, Gary Fogarty and Mick Martin had the scores locked at one stage so a count-back solved that very quickly.
Ron Liekefett was the compere, Trisha Anderson was the poet Marshal and Mal Beveridge ably kept the whole show rolling smoothly. Anna Marsden and Kathleen Brock from the Ekka staff were outstanding and we owe all the helpers a massive debt of gratitude. The RNA President was absolutely enthralled with what he saw and heard. We went to the Presidents dinner where he spoke for a good ten minutes about how the Ekka poetry comp was one of, if not, the best competition in the country at the moment and how important sponsorship is to it's success. We were rapt that he was so impressed and he presented the awards for the Caravanning Queensland poetry section during the competitions.
The sponsors were Caravanning Queensland, The Pronk Foundation and Gympie Road caravans.
Mick Martin.
See full results here.
Shelley Hansen with her 2022 Bronze Swagman Trophy
The Bronze Swagman prize for written bush poetry is one of the most sought-after trophies in bush poetry. Shelley was excited to receive hers recently.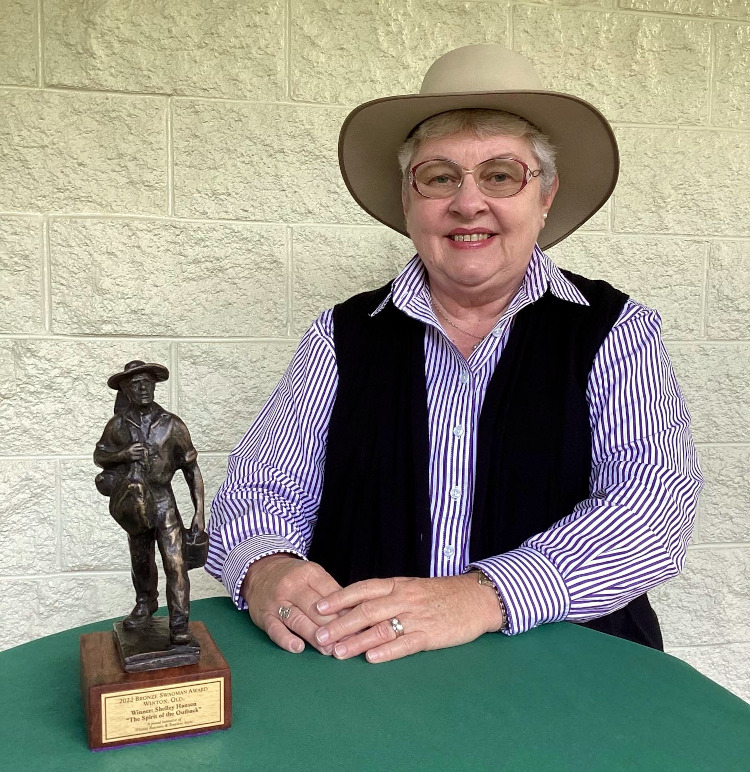 See previously featured poets
.
See previously featured achievers
.
Anthology On Sale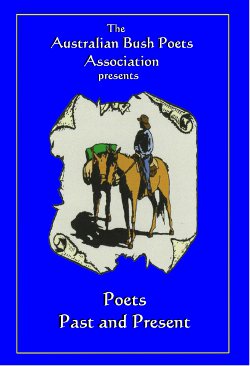 Anthology of ABPA poets past and present is now on sale $28 posted (within Australia).
A who's who of modern bush poetry.
62 poets, 192 pages.

More information here (pdf).
On This Site
Membership Information
Forms and direct deposit information.

---
Forum
Take part in our online forum.
---
Multimedia
See and hear some of our modern Bush Poets.
---
Yarn Spinning
Poets often tell yarns too.
Read some great Aussie yarns.
---
Regular Events
You'll find regular poetry gatherings around the country.
---
Featured Poets
Meet a poet or two.
---
Member Achievements
Read about what some of our members have achieved.
---
Roll of Honour
Australian Bush Poetry Champions and ABPA executive members.
---
Magazine Advertising Rates
---
Disclaimer
---
Privacy Policy
2022 ABPA Committee
ABPA Committee Executive
President — Tim Sheed
Vice President — Ray Essery
Secretary — Meg Gordon
Treasurer — Christine Middleton
Committee Members
Tom McILveen
Manfred Vijars
David Stanley
ABPA State Delegates
NSW — Bill Kearns
Victoria — Jan Lewis
Queensland — Peter Frazer
WA — Irene Conner
Magazine Editor — Neil McArthur
Public Officer — Gregory North
Facebook Editor — Jan Lewis
Webmaster — Gregory North

President's Report August-September
Some time ago the Committee of ABPA voted unanimously to make Ray Essery a life member for his tireless work over many years promoting and performing Australian bush poetry.

Ray has been Vice President and a committee member from the time the Association was formed.

Due to travel commitments by Ray and others I asked Gary Fogarty to make the announcement at a recent festival (see elsewhere in this edition).

Our Webmaster Greg North has been doing very good work on making our website more user friendly, particularly for hand held devices. The register of performing poets available for hire was updated as we found that many of the registered poets were not actually members of ABPA. That has now been rectified.

Plans for the National Bush Poetry Performance Competition are proceeding well and will be taking place at Orange NSW in February 2023 after years of delay (see elsewhere in this edition).

Our organization currently has a membership of approximately 230 and we are hoping to increase this as things slowly return to normal.

The digitization of our past magazines is proceeding slowly due to illness but it is proceeding.

Timothy Sheed
President.

2022 AGM documents (pdf):

Minutes
President's Report
Treasurer's Report
Constitution amendments
Amended Constitution 2022